THE SMARTER PAYMENTS SUMMIT IS A HIGHLY FOCUSED EVENT THAT BRINGS THE INDUSTRY TOGETHER FOR ONE-TO-ONE BUSINESS MEETINGS AND VALUABLE NETWORKING OPPORTUNITIES. YOU WILL MEET WITH SENIOR PAYMENT TRANSACTION PROFESSIONALS WHO ARE ACTIVELY SOURCING NEW SUPPLIERS!
The event will guarantee:
– An audience of pre-qualified buyers
– Selected and 'matched' meetings
– No time wasters
– No hidden costs
– Just face-to-face sales meetings throughout!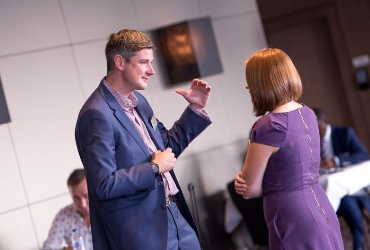 Buyers who attend include:
CEO
COO
Chief Technology Officer
Operations Director
Director of Strategic Banking
Head of Fintech
Head of Compliance
Innovation Director
Head of Digital Service Communications & Payments
Head of Payments
Head of Customer Analytics
Tailored to meet your requirements like no other event.
Your time is precious, valuable and limited. At the Summit, we will deliver a first-rate return on investment, and put you in touch with professionals who have specifically asked to meet you, would like to discuss your products and services, and are pro-actively looking for solutions for their organisation.       
The Summit also offers an unparalleled opportunity for you to promote your service solutions to senior decision makers, who have the authority to spend and are reviewing their current suppliers.
Key benefits
We organise personalised appointments with conference and event buyers and suppliers to meet in their own dedicated meeting booth. Each supplier will have a series of 20 minute meetings with key decision makers throughout the day. 
You are guaranteed a captive audience of professionals, pre-selected and matched meetings, and cost effective measurable ROI, without any time-wasters and hidden costs.